Trail Runs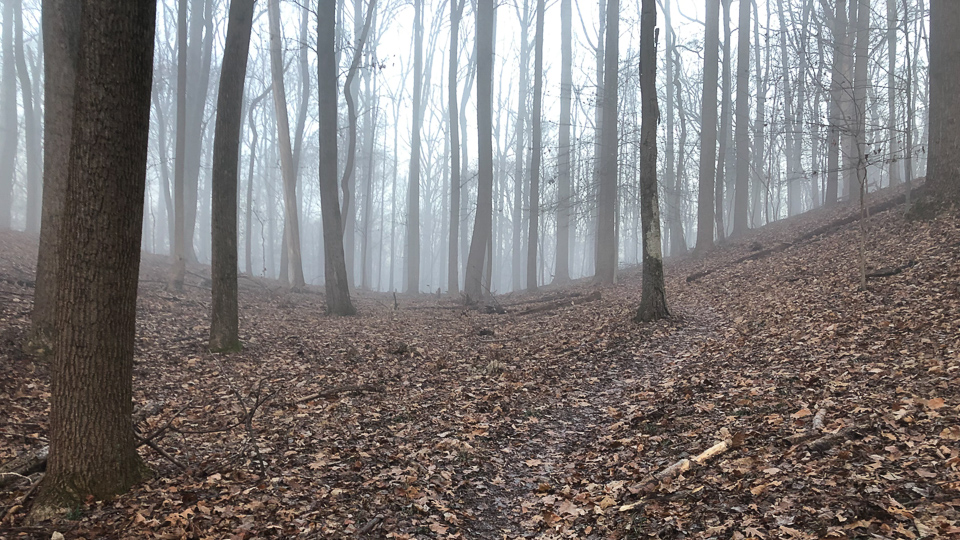 I haven't considered myself a runner for a long time. I ran back in middle and high school, as well as through some of my college years, but gave it up as it was hard to build muscle and run lots of miles. Since my return to running, I've discovered that the trails are where I like to live. I like road running too, but there's something about running in nature that I find comforting.
This page captures some trails in the area that I like.
Trails
Patapsco Valley State Park (Daniels Area)
This may end up being my go-to trail for the winter. In general, it's drains well. There are a couple of spots where you have to pick your way around the mud or water. It's also pretty hard to follow in the fall, so make sure to load up your GPS. There are several stream crossings, including one right at the beginning, so there's plenty of opportunity to get your feet wet. It's also a really nice trail once you get onto the single track.
Here are a couple of shorter versions of the route, in case 6.7mi is too long:
A beautiful area one you get on the other side of the hill. Big hills but there aren't many of them, which makes it fun but tough. Stays very runnable after a rain.
Patapsco Valley State Park (Landing Rd/Avalon Area)
It's about 4 miles around the loop. The area is very rooty and has several mud patches, even when it's been dry for most of the week. Outside of that, it's a great trail and connects to several others, so you can extend the length of the run pretty easily.
It's about 4.5 miles around this lollipop style course. It can be very technical in places, especially near Cascade Falls. This one is less muddy than the course above when wet weather has come through the area. It can also be a tough course to follow the first couple of times because things are not clearly marked and Morning Choice splits in two different directions. It's a good moderate course though–not too easy, not too hard.
This can be a challenging run. You pass the Cascade Falls and then hit the Ridge Trail, which is the challenging part. Some areas get fairly steep and requires quite a bit of strength endurance to get up. You should avoid this area in the wet weather. It's known to have trail closures and flooding. I'd also avoid it on extremely humid days–especially after a small rain–in the summer. The trees do a great job trapping that humidity making it really hard to breath well. Also, I'd consider parking closer to where the Morning Choice and Belmont Trails meet. The parking area there is a little better.
This is similar to the Patapsco State Park Loop, except tougher. You don't do the big loop, but you pick up Garrett's Pass–which is a long, steady, mile and half climb. I'm not sure how this holds up in the rain, but I suspect the Garrett's Pass portion along with the Lewis and Clark Trail are quite fine.
The AllTrails page has you starting up top within the park. That's not a bad choice since there are restrooms there. However, living south of there, I find that the Landing Rd side is a much shorter trip for me. You can easily tweak the route to begin where Morning Choice meets Log Trail (which isn't far from the Morning Choice trailhead) and then loop up to the falls, around Garrett's Pass, up to the falls again, around the Ridge Trail, and take the short way back to the Morning Choice and Log Trail junction.
Note: the AllTrails page says it's 800 ft. of elevation gain, my watch says 1050 ft., but I think they're both wrong. I believe there's more than that but can't honestly say just how much. I suspect it's off by several hundred feet at least. Also, most of the stream crossings aren't bad in that you can easily jump over them or do a quick step on a rock and jump over it. There are a couple that are sizable and can leave you with wet shoes. There's also a couple of areas that get muddy too–even after a dry spell.
Here's a version of the trail starting on the Landing Rd. side of Patapsco.
The map says 6.2mi, but I've found it to be longer. It's somewhere around 6.5-7mi in length. Parts of the Log Trail tend to be a touch overgrown in the summers here because of all the rain we get. Up near Cascade Falls is very rocky, but still very runnable. The fun part of this run is cutting across the falls. The trail continues on the other side, but it's hard to see until you've made your way across. The tough part of this run is getting through Garrett's Pass. You basically go down to the lowest point you can and then work your way through switchbacks and slow climbs up the terrain. There are steeper areas that will test your legs too. Garrett's Pass is a beautiful area. You'll find wild flowers in the Spring, good tree cover, and pretty landscape around you.
The one catch about this trail is that you need to make sure you take the right turns on Garrett's Pass. There are lots of intersecting trails and it's easy to get turned around and looping back. In particular, there's a part of the trail that splits between two trees that is really easy to overlook. You need to take the right-hand fork of that split.
All of that said, this is quickly becoming a favorite. The speed varies here depending on how well you handle the technical bits and how much you like running up hills.
Pataspco Valley State Park (McKeldin Area)
The early part can get swampy in wet weather, but the rest of the trail is pretty nice. There is a big climb pretty early on, but you're rewarded later with nice views of the Patapsco and the McKeldin Rapids. The route is a bit short for my typical trail run, but if you know the area you can work a 6-ish mile run out of it.
Here's the same trail except routed backwards (gpx). Of the two, I think this is is a bit harder because you spend much longer climbing.
Patapsco Valley State Park (Woodstock)
This is a pretty fun run with a little bit of everything. There's a cave near the start of the trail, a cross-country section, and plenty of hills. The only thing to watch out for is that it does get a bit muddy after a rain, but it's still pretty tolerable.
The very beginning can be a bit muddy/swampy, but it doesn't last long. Most of the trail is very nice. A bit technical in places, but overall a very pleasant run. There are some hills here, but easy compared to our usual runs.
This largely overlaps with the above trail, except that you stay next to the river and there's very little elevation gain. However, at the turn around point, there are a series of cascading falls that are beautiful, especially in the Spring and Summer months.
This is a fun trail, but messy if wet weather has been in the area in the past few days to a week. Definitely some sites to see along the way… old cars in the woods (with some additions added by the locals), an area with really tall trees, and the old quarry is just beautiful (and has quite the chorus of frogs). One of our favorites, for sure.
This touches the other side of the Daniels long run. It gets really beautiful when you start getting away from the river. There is some elevation, but it's only moderate. There is a bigger stream crossing that gets a little tricky if you're trying to avoid getting your feet wet. It is also a bit tricky to navigate, so bring a map and your app to help track where you are, especially toward the middle where several trails intersect the route.
This is a pretty fun run with a little bit of everything. There's a cave near the start of the trail, a cross-country section, and plenty of hills. The only thing to watch out for is that it does get a bit muddy after a rain, but it's still pretty tolerable.
Patapsco Valley State Park (Pickall Area)
The trail itself is only 2.8ish miles long, but has some rocky and muddy areas, as well as some obstacles. On the whole, it's a pretty scenic run that follows the edge of the Patapsco River.
We used to do this longer loop, but the downhill portion from the big hill has proven to be a bit treacherous. So we follow this loop instead. There's a pretty hard climb as you turn back, but it's pretty fun.

Watch this trail after it rains. The early part of the trail can get quite swampy. Once you go under the bridge and across the stream/run-off, it gets better.
Liberty Reservoir
This is one of the more scenic runs. The map claims 988 ft. of elevation gain, but it ends up being more like 1,200-1,300 ft. It's a tough run, but fun and well worth the effort. My hope is to do it enough that it becomes easy. This route is pretty runnable as long as you don't get too much rain. If you do, then it can be awfully muddy in a few places.
Seneca Greenway
This is a really pretty, well groomed, and well marked trail, at least until you hit N Frederick Ave. Once you go under the bridge, it's not nearly as well marked and appears to be far less used. I use it as an out-and-back trail. It's pretty tame elevation-wise and isn't very technical. It's also nice even after a rain (you'll hit a couple muddy spots but it's very good overall). For now, I stick to a shorter 6 mi. run here, but you can get 16 out of this part of the trail.
Loch Raven
Pretty and well-maintained trail near at the Loch Raven Reservoir. There are a couple of areas that could be muddy near the edge of the water, but there are lots of other trails you could use to route around them during wet weather. This route is a little hilly, with only a couple small water crossings. The couple of areas where you're running on the "road" are rocky, but the rest is very nice. And keep your eyes open… there's an area with about 100 cairns built. I've never seen so many in one place!